When I was asked to check out this app and give my opinion, I knew exactly who Little Critter was. Just to make sure I wasn't imagining reading Little Critter books when I was really young, I googled to see how old Little Critter is, or to be more specific, how long he has been around. Little Critter first appeared in 1975 which makes him 4 years older than me, so I definitely remember him!
The App is called "The Trip-Little Critter Reading Adventure" by Mercer Mayer. It's available for iPhones, Android, Nook and Kindle and costs 99 cents. This app is for preschool and early elementary kids, ages 3 to 7. There are two ways to play this app. The first is the Just Read function that reads the story aloud for your child, and the more exciting Reading Adventure, which also reads the story for your child, but is filled with lots of different and fun game interactions along the way. The storyline is about what happens with Little Critter's family goes on a trip.
The Help Menu-it's not blurry on the actual game
The Reading Adventure starts by running through a quick tutorial of the functions you will use in the game. It's very simple to learn, and access these functions by clicking the Menu button on the top left side of the screen. Little Critter has a backpack where you will collect a few items that you will need along the trip. He also has his map, where you are asked to choose the next destiny. The last function is Flashcards, and this is one of the fun mini games in the game. Along each point on the map, you can press on different objects and try to collect 26 cards based on each letter of the alphabet. Sometimes you may find something for your backpack, and sometimes you might get a flashcard. Besides picking up objects, the game is interactive by pressing on the different characters in every scene. At first I was pressing everything just to make sure I didn't miss something. About half-way through the game, I noticed anything you could interact with has a small (sometimes flashing) dot on the character or object that is interactive. Plus there are 6 mini games that you play based on spelling, counting, and colors that you can collect a gem when completed, that will give you a fun surprise if you collect all 6!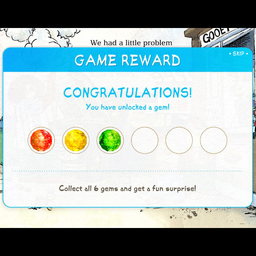 The Gem Game
Overall, I really enjoyed this app. I completed all the mini games in just over an hour or so. I can see this lasting much longer for a little one because of the mini games. I would have loved this game as a kid, and it would have kept me busy for a long time. For a smaller child that is just learning, an adult is probably needed to help assist with the game for a bit, especially with the mini games, which makes the Just Read function nice when Mom is busy. The only tip I have is to be aware of the tiny
blue
dots. I was just looking at the Help screenshot I provided above, and there are 3 different colored dots that mean different things. The blue dot is for animation interaction, the orange dot is a flashcard card, and green dots are items for your backpack. I honestly did not notice the difference last night, but I was playing in the dark. After a double check, the flashing dots ARE different colors. As I said, I didn't notice the dots at first, so maybe if you have an older kid that doesn't read the Help menu (like my kid), it might be more challenging if you did not mention the dots! I would definitely recommend this game for your little ones that love Little Critter. It's fun, but educational at the same time, which is important when choosing good apps for your children. At the end of the game, it will give you the option to purchase an additional gamepak. You can read more about Little Critter and this app:
here
.
Does this happen to anyone else's family too?!
*I was asked to review this game for my honest opinion. I was compensated for the game, but all opinions are my own.*