I was asked to check out an online store and give my honest opinion on what I think. The online store is called
hip hop 50's shop
, as this post is cleverly titled the same! I have been in love with vintage dresses for almost 2 years, ever since I found another online store that sells vintage clothing. I eventually want to learn how to sew all of my vintage dress clothing to wear! I was super excited to know that I would be checking out vintage dresses.
As soon as I arrive to the site, I am smitten with the pink rosy background! This store is awesome. It sells 50s poodle skirt costumes for kids AND adults that are actually cute with all the cute accessories like saddle shoes and cateye glasses! Not the cheap-o ugly costume in a vinyl bag and smells like old band aids that you get at your local Halloween store outlet that is a party store the other eleven months of the year.
While the poodle skirts/costumes are cute, it's not exactly what I'm looking for. I click on
Vintage Dresses
and immediately fall in love with my options! What's really awesome, is that all the dresses are somewhat cheaper than the other vintage dresses I have found on the internet and Amazon. If I were buying the dress today, I would get is the
50s Vintage Tea Dress Black with white polka dots
!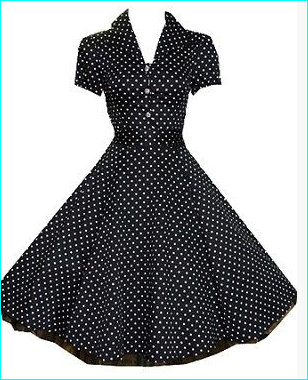 Vintage Tea Party Dress black with white dots


I love this dress! There is also a red version with black dots! I prefer the black over the red because I could wear this ANYwhere. It's perfect for work, to go shopping in, or even to wear on a date night out. I love that it has a full skirt to twirl in. The shop also sells
crinoline petticoats
to wear under the dress to get the bigger full skirt look that I love so much. I would have to get a black one to go under my dress! I've been checking out petticoats for a loooong time, and have some of the cheaper prices I have seen around.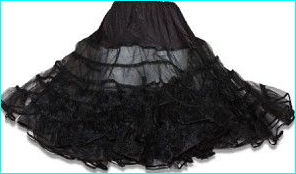 Black crinoline petticoat
I like the style of dress because it accentuates the small of your waist then flares out, hiding my problem areas-stomach/hips/thighs. I also love the V-neck with the cap sleeves. (I feel like) I'm the only person in the world who doesn't wear tank tops or spaghetti straps because I'm really self conscious of my arms. I have gained weight in my 30s that I'm not comfortable with, so this dress would "hide" the areas that I have issues with. I can't stand being in clothes that aren't comfortable.
Overall, this store looks awesome. Not only do they sell 50s costumes and
accessories
, but they have a selection of super cute vintage dresses. I have bookmarked this shop for the future so I can go back and get the dress and petticoat! Who knows? Maybe I'll end up with some matching black cateye glasses and a cute teal
chiffon scarf
!
*All opinions are my own, and I was not compensated for my review on this post.*